CALMING - HEALING - DEEP RELAXATION
Regular price
Sale price
$41.00 USD
Unit price
per
Sale
Sold out
DESCRIPTION:
CALMING - HEALING - DEEP RELAXATION
Tranquillo baby, it's time to slow down. A calming healing hug for your aura, your energy field. With powerful qualities for purification, healing, and groundedness, Lavender brings internal peace, a calm mind, and relaxes the physical state.
Chamomile is deeply relaxing, soothing and comforting, and helps to ease any nervous tension being held. Encourages harmony and smooth flow of vital energy, leaving you with a sense of wholeness. 
Tranquillo intends to bring you a dose of serenity to any chaos, cut through stress and anxiety, and guide you to inner peace. It invites you to deep rest.
You can of course use Tranquillo during the daytime as well - it's lovely for meditation, pauses or rest. Especially helpful if you experience a "monkey mind" or having a headache. The mist will help you to calm down and center the mind, tap into your intuition and to leap to higher levels. Its superior balancing qualities are ideal for chakra-balancing. If you're ever tired or experiencing mental exhaustion at a time when you really need to focus, we would recommend you to avoid using Tranquillo. Chances are high that it will send you right to sleep.
INGREDIENTS

Created by gifts from mother earth: Purified water charged in the moonlight with high-quality essential oils: Lavender, Chamomile and Cedarwood. Contains natural preservatives. Infused with Amethyst, bathed in mantra, and sealed with love.
USE

Shake well before use to disperse the drops of essential oils and to activate the Aura Spray. Read the affirmation in the bottle. Close your eyes and gently spray around your aura, as much as needed. Breathe deeply and repeat the affirmation to yourself. Enjoy the shift.
SCENT

Aromatic, floral, bright, fresh, sweet and slightly woody.
PRODUCT INFORMATION

50 ml Crystal Aura Spray in a glass bottle. Only for external use! This is NOT a skin product such as a facial mist. It's a natural spiritual mist for your auric field.
PRECAUTIONS

Please read through the safety guidelines: 

- Only for external use.

- Keep in mind that all oils can stain clothes and other things.

- Keep oils out of reach of children.Store at room temperature.

- Must not freeze.

- Our products is not intended to diagnose, treat, cure or prevent any disease.

- Everyone reacts differently to different oils, first test on a small area of the skin.

- Never use it if it includes ingredients you are allergic to.

- Avoid applying to sensitive areas and broken skin. Better safe than sorry.

- Do not use it during pregnancy without the advice of a doctor.

- Don't use it as a massage or body oil. Use only a few drops or diluted with a carrier oil if you apply it on a larger area of skin. 
View full details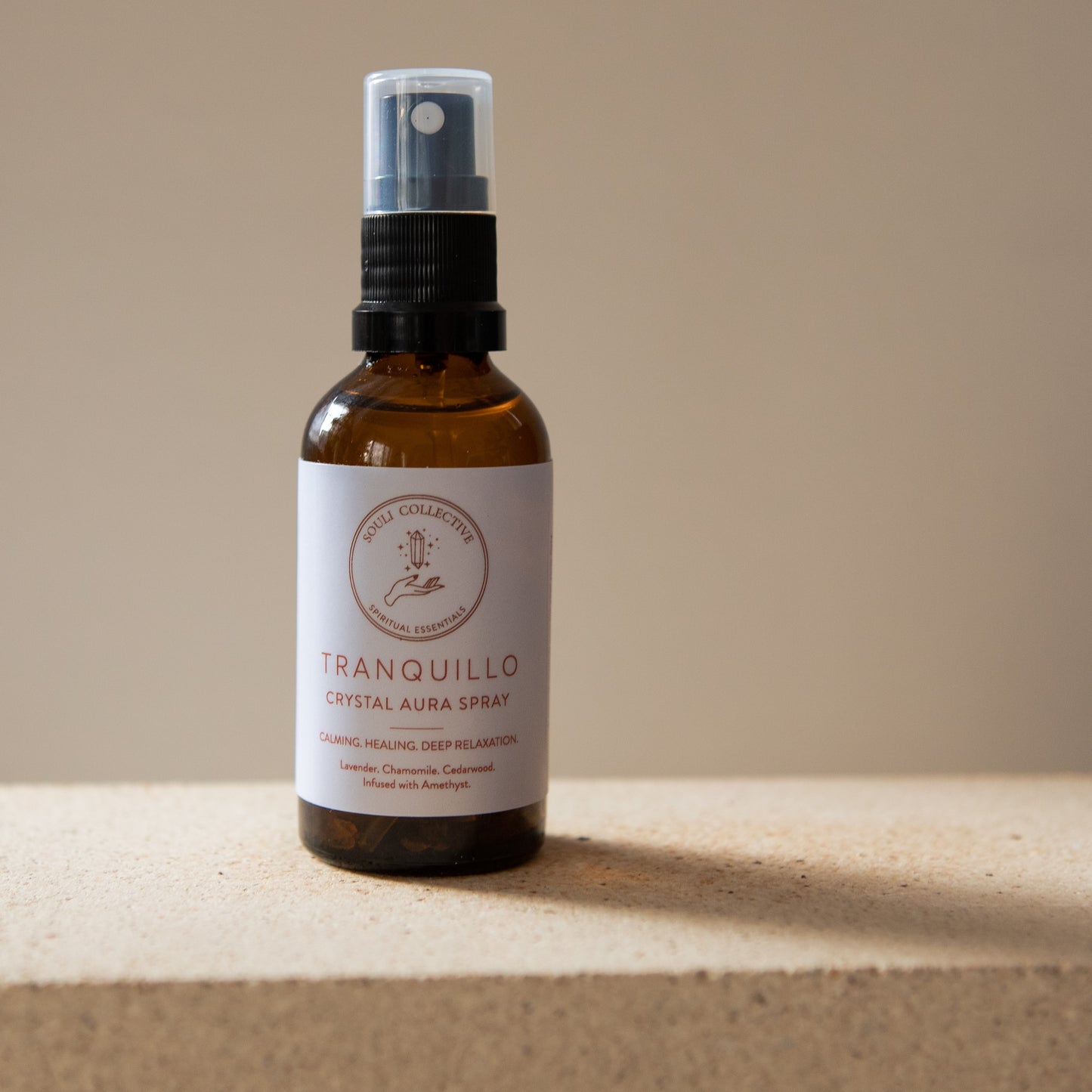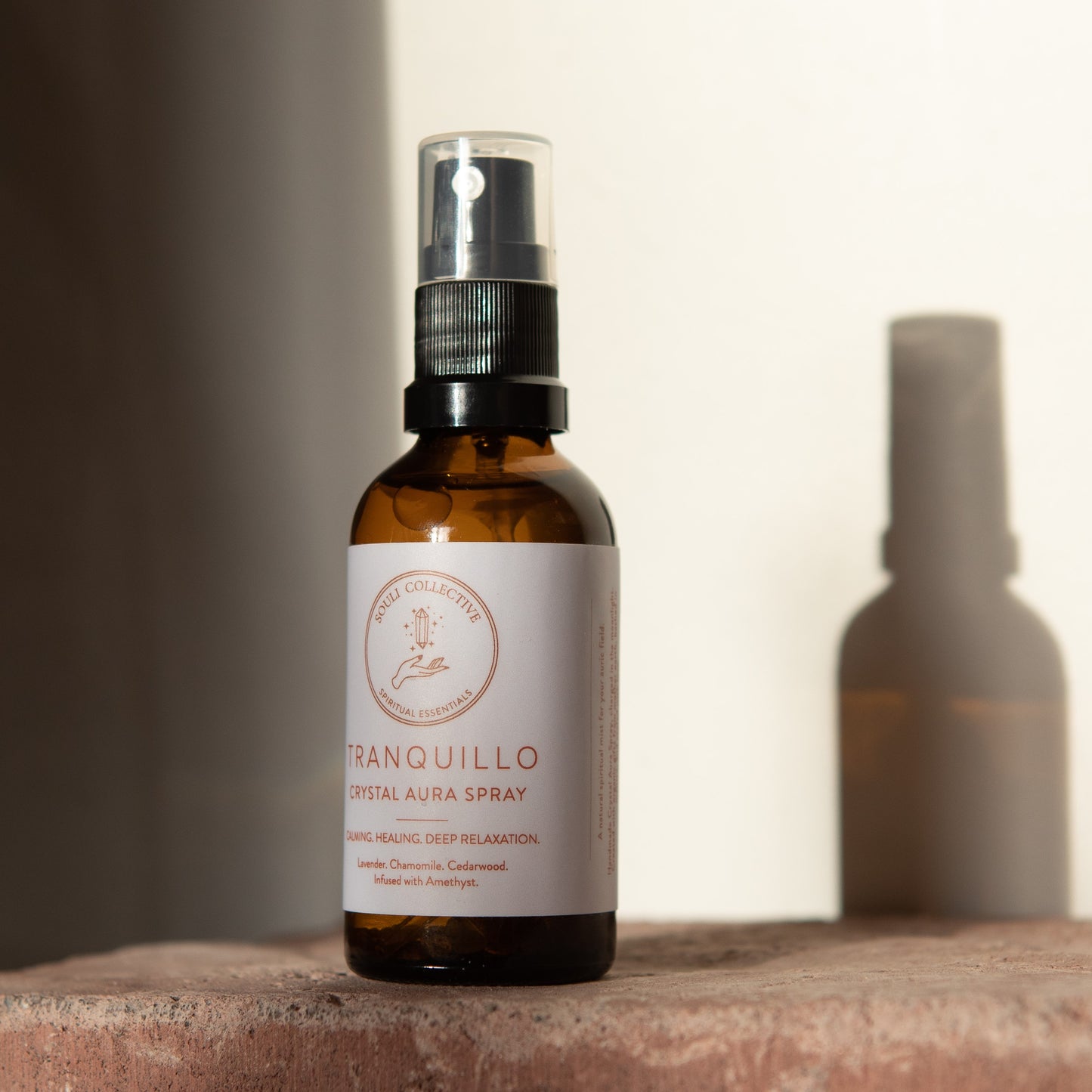 THE BLEND

If you crave a slow and peaceful moment, seek to nurture your meditation, or just want to drift into a restful sleep, this is your go-to mist. Designed as a good night Souli, it restores the balance to the auric field, releases feelings of stress, and promotes a strong sense of peace and calmness.

DIFFERENCE BETWEEN DROPPER & ROLLER

Rollin' it: Perfect to have on the go, in your jacket or bag, since there is no risk of leaking. So it's amazing for the bus ride, workplace, meetings and so on. It's simple and sweet to use.

Drip Drip: It gives a luxurious feeling when you add the drops by yourself. You can see, feel and smell it while you're applying the oil. Perfect to have next to your bed, meditation space, work desk and so on. It's charmy to use.

SHIPPING

Sweden: FREE shipping for order over 750:-, otherwise 49 SEK.

Rest of EU: 149 SEK.

We want to be kind to Mama Earth so we don't ship every day. You order will be sent to you within 72h.