SELF ESTEEM - ABUNDANCE OF LOVE - OPENNESS
Regular price
Sale price
$31.00 USD
Unit price
per
Sale
Sold out
BLEND DESCRIPTION:
SELF-ESTEEM.  ABUNDANCE OF LOVE. OPENNESS. 
Love is something we all desire, crave, and need. After all, love makes the world go round. Finding, and holding onto, love is one of the great mysteries of the world. It is a wonderful adventure to explore for us human beings.
Naked love is here to support your love journey. With the power to not only bring soul love into your life, but also to help you keep it once you have found it.  As the blend is working with your heart chakra, it's here to crack it open, and to help it stay open. Here to support you with trust and faith. It helps you with confidence and courage. It's time to call in love, and dare to love fully.
Ylang ylang essential oil is the oil of the inner child and is uniquely calming, cooling, and euphoric at the same time. Known for soothing anxieties and conflicts. Promotes peace, love, lust and sexual power, while also helping with jealousy and self-esteem. Infused with Nutmeg, which brings feelings of connection, deep comfort and security. 
Here to bless you with love and luck, charge you with caring energy and help you to tap into your natural state as a loving and generous being. With the purifying qualities, it softens rigid boundaries, and thereby reduces tension and patterns of control. The essence of patchouli digs in deep: it helps to break long-held patterns of shame and low self-worth, inspires balanced introspection and real self-love in turn. To top it off, there is the stone of universal love in the blend. Rose Quartz is here to restore trust and harmony in relationships, encouraging unconditional love.
It's time to tap into a state of gratitude, for all the love in your life. Tune in to your desires, visualize it, feel it, and believe it. Manifest and take actions. Let loving vibes wash over you.
INGREDIENTS

Jojoba, Patchouli, Cardamom, Ylang Ylang, Vanilla and Nutmeg. Infused with Lapis Lazuli and Rose Quartz.
USE

Let a drop or two land on your inner wrist, gently rub the wrists as they are humbly caressing each other. Close your eyes and cover them with your palms and breathe deeply and feel the connection to love flow. Exhale.

The oil is perfect to apply over your chest, whenever you feel in need of a heart-opener and want to speak the language of love. It's magical to combine with manifestation work.
SCENT

Imagine yourself lying by a fireplace, in the arms of your love. A swell of freshly baked cardamom buns is passing by. Feeling at home, a deep connection that makes your heart beat with pure love.

In other words, the scent is warm, spicy, sweet, musky, sweet, exotic, floral, woody and earthy. A slightly mystical scent.
PRODUCT INFORMATION

10 ml spiritual oil blend in a glass bottle. Choose the lid type by yourself.
PRECAUTIONS

Please read through the safety guidelines: 

- Only for external use.

- Keep in mind that all oils can stain clothes and other things.

- Keep oils out of reach of children.Store at room temperature.

- Must not freeze.

- Our products is not intended to diagnose, treat, cure or prevent any disease.

- Everyone reacts differently to different oils, first test on a small area of the skin.

- Never use it if it includes ingredients you are allergic to.

- Avoid applying to sensitive areas and broken skin. Better safe than sorry.

- Do not use it during pregnancy without the advice of a doctor.

- Don't use it as a massage or body oil. Use only a few drops or diluted with a carrier oil if you apply it on a larger area of skin. 
View full details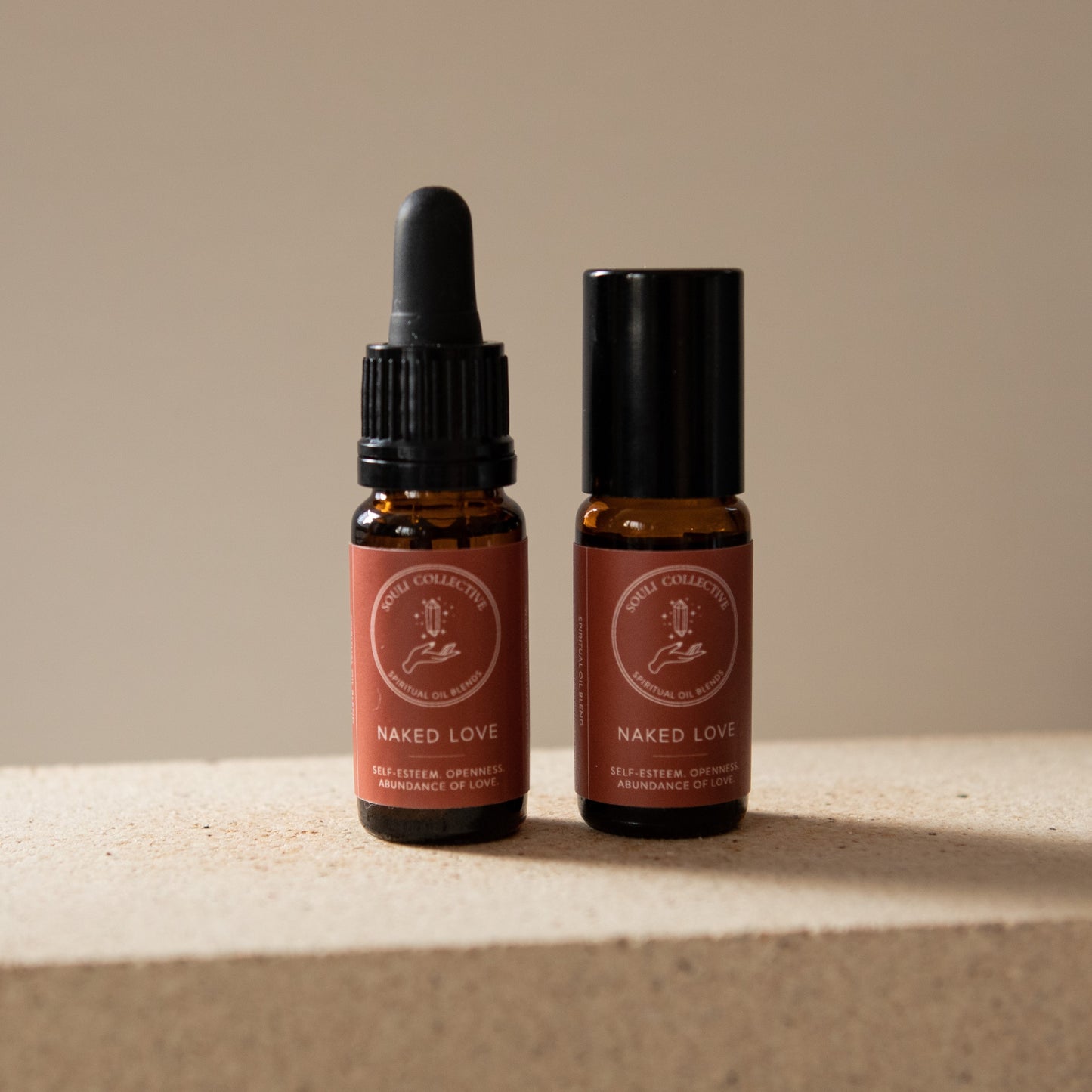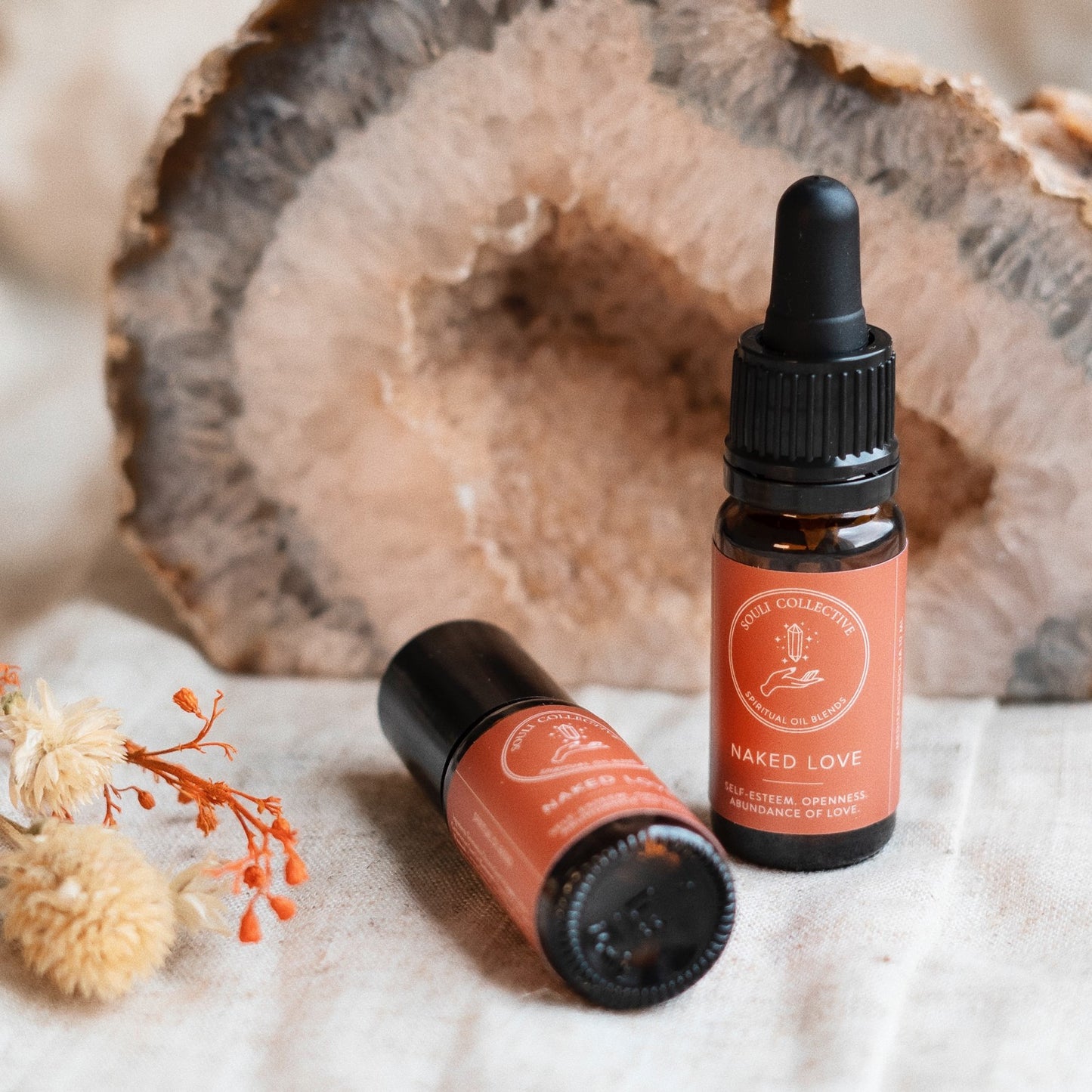 THE BLEND

It's your go-to Souli when you are feeling stuck or in lack of love, in need to strengthen your relationships, feeling sad, lost, low, shame, confused or in lack of trust.

DIFFERENCE BETWEEN DROPPER & ROLLER

Rollin' it: Perfect to have on the go, in your jacket or bag, since there is no risk of leaking. So it's amazing for the bus ride, workplace, meetings and so on. It's simple and sweet to use.

Drip Drip: It gives a luxurious feeling when you add the drops by yourself. You can see, feel and smell it while you're applying the oil. Perfect to have next to your bed, meditation space, work desk and so on. It's charmy to use.

SHIPPING

Sweden: FREE shipping for order over 750:-, otherwise 49 SEK.

Rest of EU: 149 SEK.

We want to be kind to Mama Earth - orders are shipped Mondays and Thursdays.