GROUNDEDNESS - BALANCE - STRENGTH
Regular price
Sale price
$34.00 USD
Unit price
per
Sale
Sold out
BLEND DESCRIPTION:
GROUNDEDNESS. BALANCE. STRENGTH.
A swell of grounding and healing energy from mother nature. It slows us down when life goes a bit too fast. Feels like a woody warm hug for our energetic body, and it whispers "relax dear, you got this".
Mama Forest is here to calm us down and get us out of our minds, into our space of heart and spirit. The blend invigorates inner peace and helps us connect to the divine.
Not only that it purifies and relaxes the mind, it also strengthens and boosts our self-esteem. It can help us to feel inspired and foster creativity. A confidence booster. With the clear quartz, also known as the master healer, it acts as a deep soul cleanser and absorbs negative energy of all kinds. It balances and revitalizes us on a physical, mental, emotional and spiritual level.
INGREDIENTS

Jojoba, Pine, Sandalwood, Juniper Berry, Grapefruit and Bay Leaf. Infused with Clear Quartz & Howlite.
USE

Whenever you need a breeze of mama forest. Let a drop or two land on your inner wrist, gently rub the wrists as they are humbly caressing each other. Close your eyes and cover them with your palms and inhale, let the smell give you a swell of grounding energy. Exhale.
SCENT

It's like entering a warm green forest, with the sun kissing your face while you receive an oxygen-rich breeze with an earthy scent.

In other words, the scent is woody, refreshing, herbaceous, slightly musky with a sweet touch.
PRODUCT INFORMATION

10 ml spiritual oil blend in a glass bottle. Choose the lid type by yourself.
(10-2024)
PRECAUTIONS

Please read through the safety guidelines: 

- Only for external use.

- Keep in mind that all oils can stain clothes and other things.

- Keep oils out of reach of children.Store at room temperature.

- Must not freeze.

- Our products is not intended to diagnose, treat, cure or prevent any disease.

- Everyone reacts differently to different oils, first test on a small area of the skin.

- Never use it if it includes ingredients you are allergic to.

- Avoid applying to sensitive areas and broken skin. Better safe than sorry.

- Do not use it during pregnancy without the advice of a doctor.

- Don't use it as a massage or body oil. Use only a few drops or diluted with a carrier oil if you apply it on a larger area of skin. 
View full details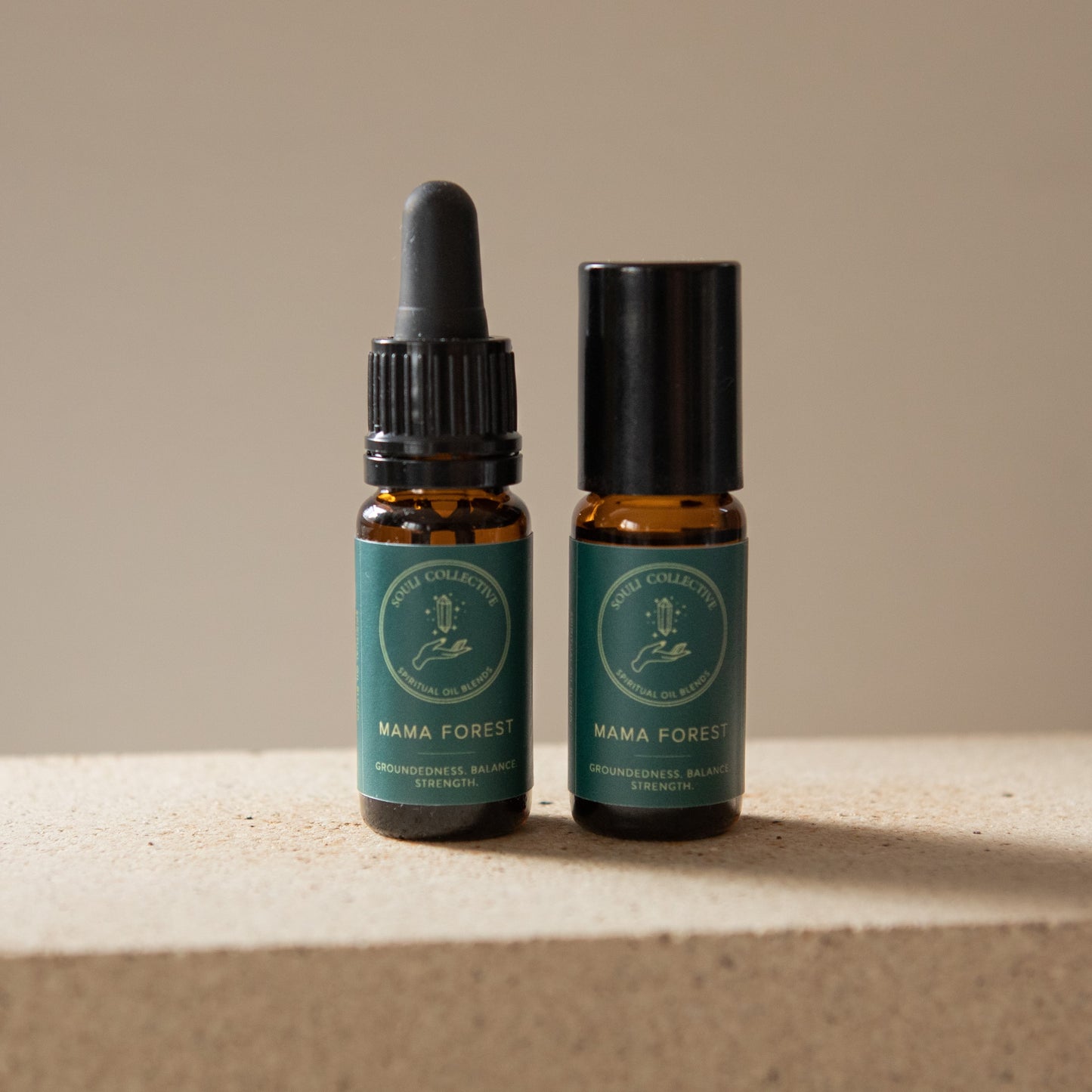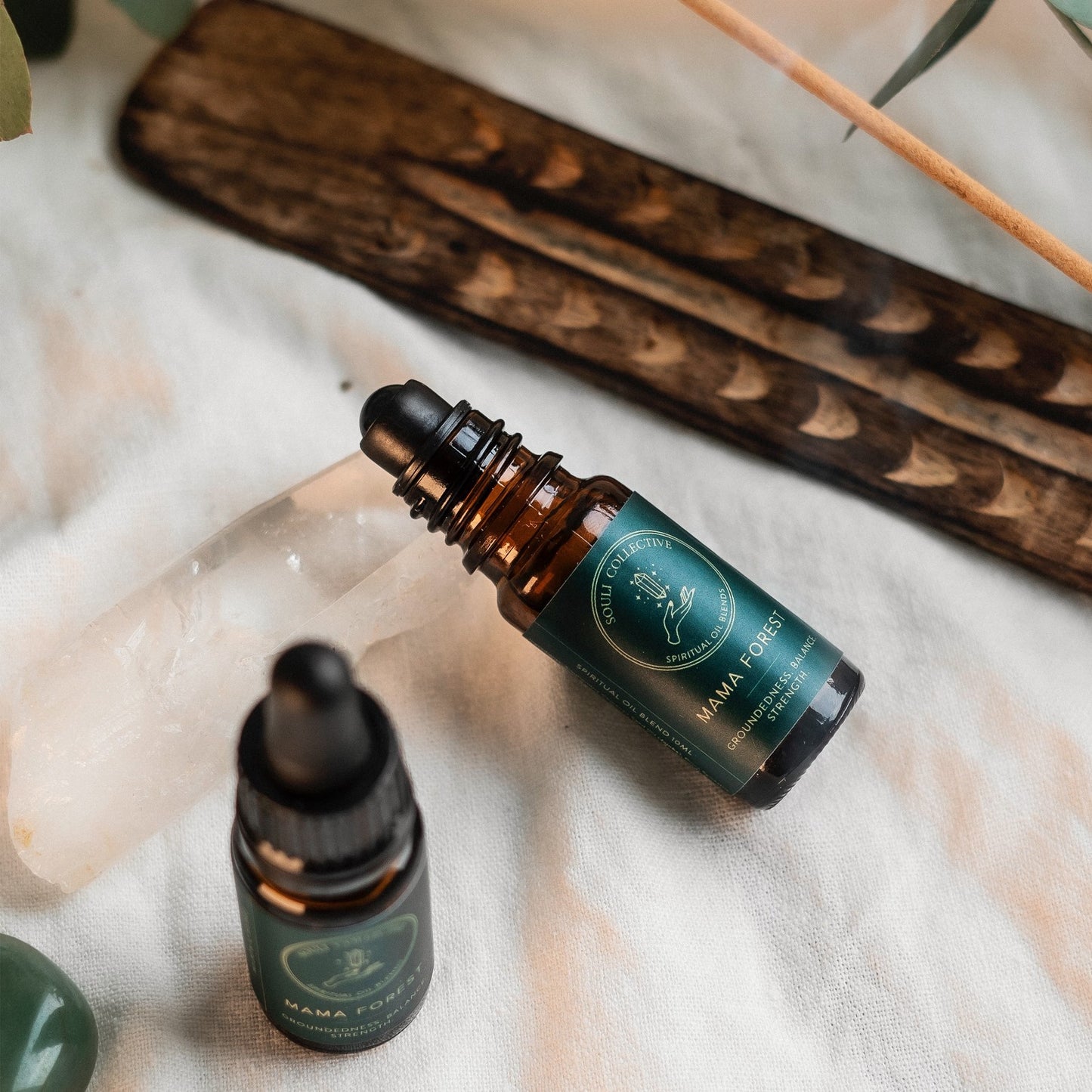 THE BLEND

It's your go-to Souli when feeling stressed, irritated, disconnected, shattered, nervous or confused. Take a deep breath. Let it bring you back to your essence.

DIFFERENCE BETWEEN DROPPER & ROLLER

Rollin' it: Perfect to have on the go, in your jacket or bag, since there is no risk of leaking. So it's amazing for the bus ride, workplace, meetings and so on. It's simple and sweet to use.

Drip Drip: It gives a luxurious feeling when you add the drops by yourself. You can see, feel and smell it while you're applying the oil. Perfect to have next to your bed, meditation space, work desk and so on. It's charmy to use.

SHIPPING

Sweden: FREE shipping for order over 750:-, otherwise 49 SEK.

Rest of EU: 149 SEK.

We want to be kind to Mama Earth so we don't ship every day. You order will be sent to you within 72h.