STICKS
Regular price
Sale price
$8.00 USD
Unit price
per
Sale
Sold out
Handmade, natural, and organic incense from Argentina. It comes in one box with 8 incense sticks, around 23 cm long, and each stick burns for 1 hour. All incenses are created by hand, with purely natural ingredients (no chemicals or synthetic additives).
The incenses comes from a family-owned company from Argentina called Sagrada Madre. They ensure that production is sustainable, with respect for Mother Earth.
Light your incense and let it bring you a swell of new energy.
Choose between:
CITRONELLA, ORANGE & PALO SANTO 
Citronella raises the vibrations and creates a shield of protection and harmony. Palo Santo attracts light, love and renewed energy.

Scent: Woody, Citrus, and Fruity.

Qualities: Protecting, Calming, Happiness, Energizing, and Balancing.
PALO SANTO & LAVENDER
A beautiful and calming scent of lavender in a wonderful combination with purifying and protective Palo Santo.

Scent: Floral and Woody.

Qualities: Harmony, Purifying, Calming, and Healing.
PALO SANTO & CHAMPA
A meditative combination of warm and sweet Palo Santo wood and refreshing Champa flower. An incense believed to promote love, peace, tranquility, well-being, inner light, happiness, balance and harmony.

Scent: Woody and Floral

Qualities: Purifying, Love, Balancing, and Harmony.
YAGRA
Natural Indian Yagra incense that sparkles like white stardust, rolled in a resin used in Hindu temples. The scent is soft with hints of citrus. Yagra is known to attract abundance, prosperity, wealth and to open new paths in life. The smoke of Yagra spreads its power of material success, evolution, and spiritual harmony.

Scent: Citrus and Woody

Qualities: Abundance, Spirituality, and Fortune
SANDALWOOD & FRANKINCENSE
Sandalwood comes from the Santalum Album tree that grows in Southeast Asia and has, among Buddhist monks, been used in incenses for thousands of years, to calm the mind before meditation. Sandalwood is associated with healing and purification.

Scent: Woody and Spicy

Qualities: Spirituality, Protecting, Purifying, Healing, 7 Chakras, Grounding, and Clarity.
ROSEMARY, RUE & FRANKINCENSE
Rosemary, rue and frankincense call upon the natural forces of Mother Earth and create energy in its purest state. Together they purify and protect places, objects, and people, while attracting balance and harmony. 

Scent: Herbal

Qualities: Protecting, Spirituality, Purifying, Connection, Clarity, and Uplifting
Please read the information below USE.
USE

Light your stick carefully with fire and then blow out the flame so you get a flowy smoke. Let it dance and bring your calm, peace, and it's unique qualities.

If you don't want to use the whole stick, you can extinguish it by pressing the smouldering end against a non-flammable pad while it smokes.

Place your incense in a suitable fireproof holder. Keep the lit stick away from flammable materials. Light only in a well-ventilated, open area. Store out of reach of children or animals. Use with caution when pregnant. For external use only.
View full details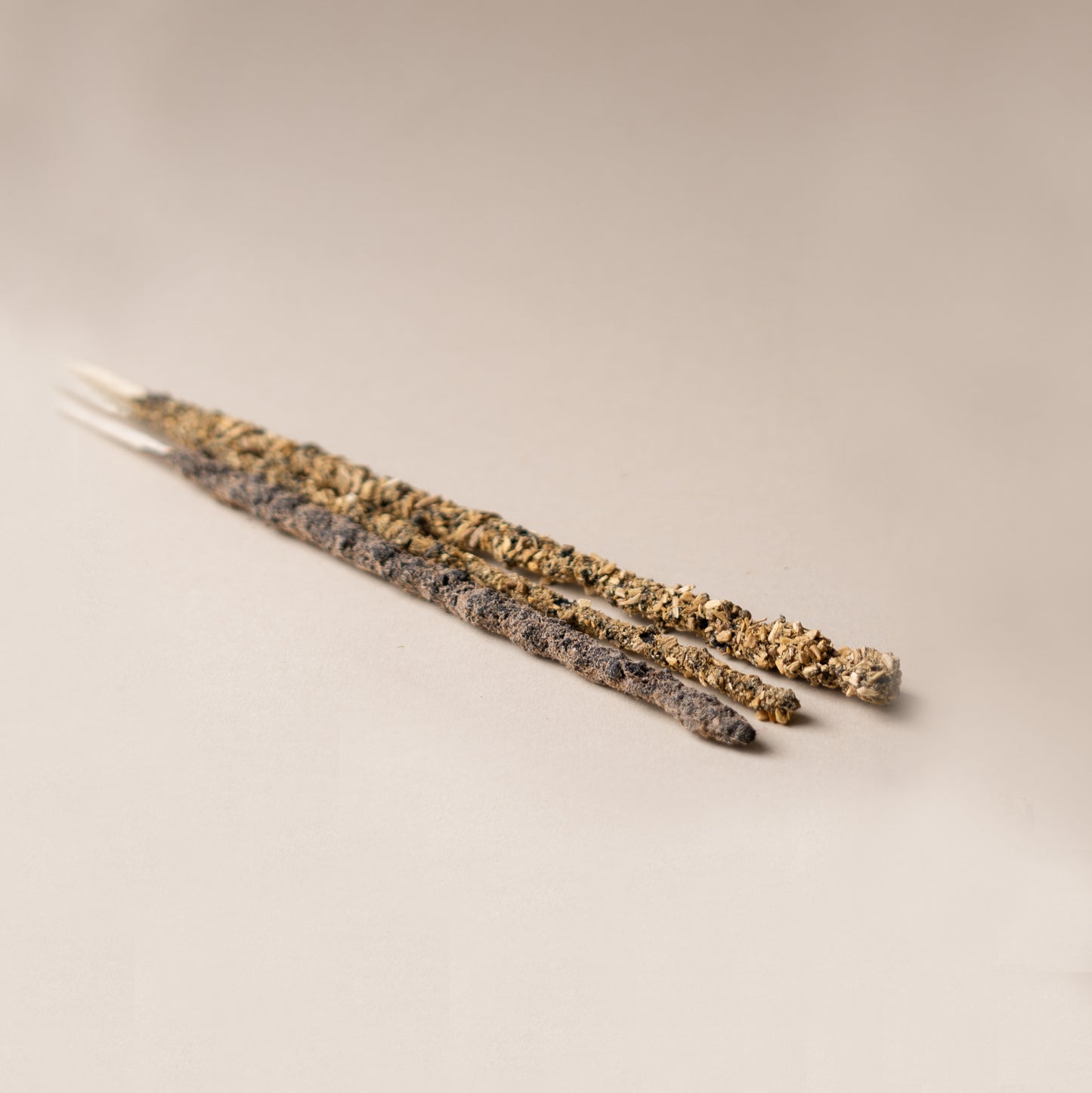 SHIPPING

Sweden: FREE shipping for order over 750:-, otherwise 49 SEK.

Rest of EU: 149 SEK.

We want to be kind to Mama Earth - orders are shipped Mondays and Thursdays.