MONEY MAGNET - LOOSEN UP - ABUNDANCE
Regular price
Sale price
$34.00 USD
Unit price
per
Sale
Sold out
BLEND DESCRIPTION:
MONEY MAGNET. LOOSEN UP.  ABUNDANCE.
Say hi to a bottle filled with luck, and make yourself ready to drift into your abundance state with this uplifting blend. Designed to support you to see new possibilities, realize dreams & goals, practice manifestations and unwind negative emotions around money.  While attracting more.
This oil blend helps you to clear emotional patterns that can get in the way of receiving. Release emotions such as fears and not feeling that you're enough. Let's let go of the worries and move into openness. Tune in with the wealth of the Universe and invite in more prosperity and abundance into your life. 
The essence of mandarin oil is joy, happiness & playfulness. It helps you get in touch with your inner child. It unlocks creative energies that may be penned up inside and helps with letting go of negative emotional patterns. It's needed for those that are too serious and struggle to 'let their hair down'. Loosen up, follow the feeling of lust and let it flow.
The blend boosts your self-confidence and protects you against negative influences, and can help connecting to your higher self and purpose. Clove is here to attract good luck and energy of new beginnings and creative projects. Each bottle is infused with green aventurine - the stone of growth - whatever it touches, flourishes. 
Let money flow with ease, stay golden and remind yourself -  alignment is the new hustle.
INGREDIENTS

Jojoba, Bergamot, Mandarin, Sandalwood, Grapefruit, Clove, and Bay Leaf. Infused with green aventurine and Tiger Eye.
USE

Let a drop or two land on your inner wrist, gently rub the wrists as they are humbly caressing each other. Close your eyes and cover them with your palms and inhale, let the smell give you a swell of abundance. Exhale. As often you need a breeze of luck.
SCENT

It's like entering a spa filled with peace and comfort. Infused with chai spices, this calming space brings you warm feelings and refreshing energy.

In other words, the scent is rich, warm, spicy in a sweet way, fresh in a fruity way and sparked with a floral & citrusy touch.
PRODUCT INFORMATION

10 ml spiritual oil blend in a glass bottle. Choose the lid type by yourself.
PRECAUTIONS

Please read through the safety guidelines: 

- Only for external use.

- Keep in mind that all oils can stain clothes and other things.

- Keep oils out of reach of children.Store at room temperature.

- Must not freeze.

- Our products is not intended to diagnose, treat, cure or prevent any disease.

- Everyone reacts differently to different oils, first test on a small area of the skin.

- Never use it if it includes ingredients you are allergic to.

- Avoid applying to sensitive areas and broken skin. Better safe than sorry.

- Do not use it during pregnancy without the advice of a doctor.

- Don't use it as a massage or body oil. Use only a few drops or diluted with a carrier oil if you apply it on a larger area of skin. 
View full details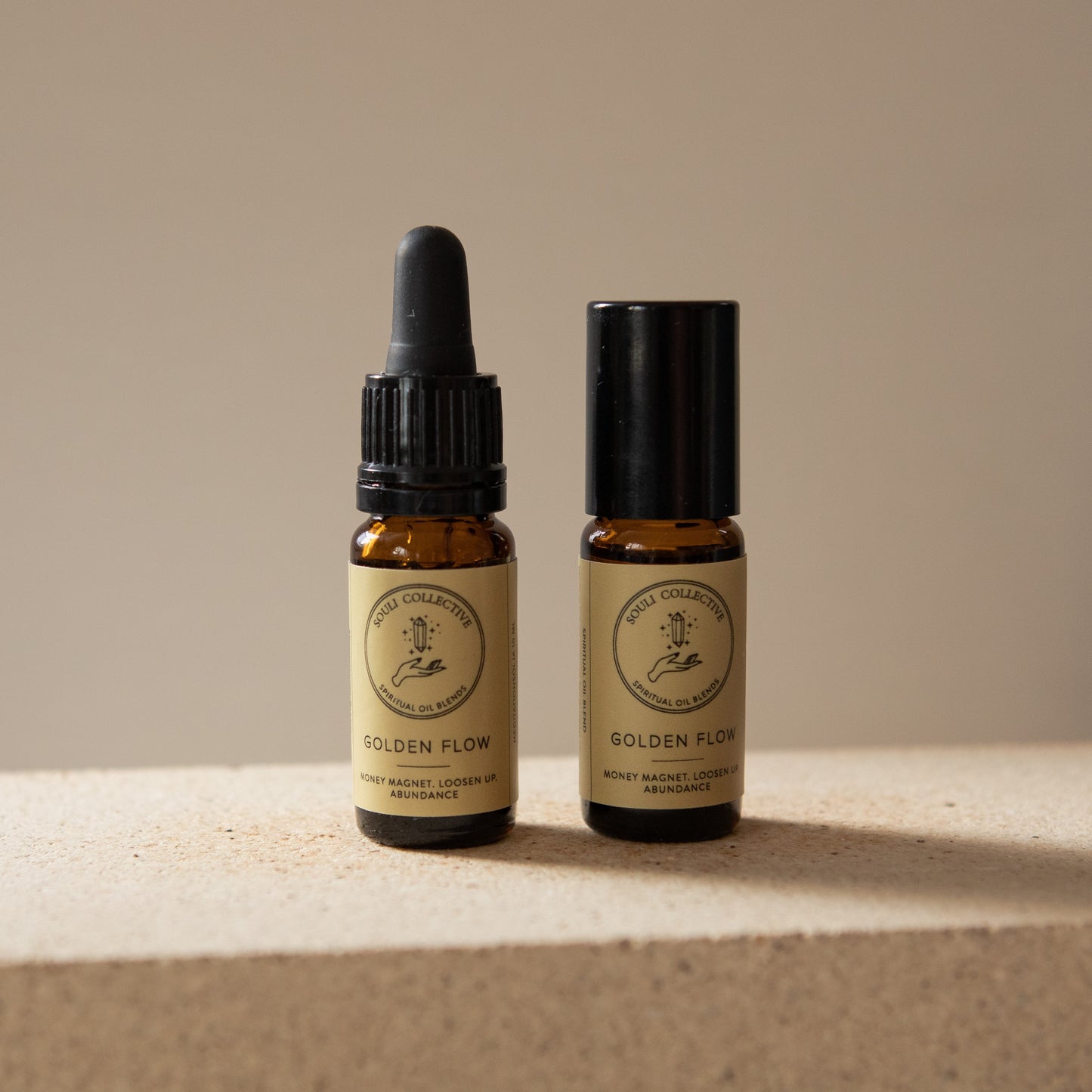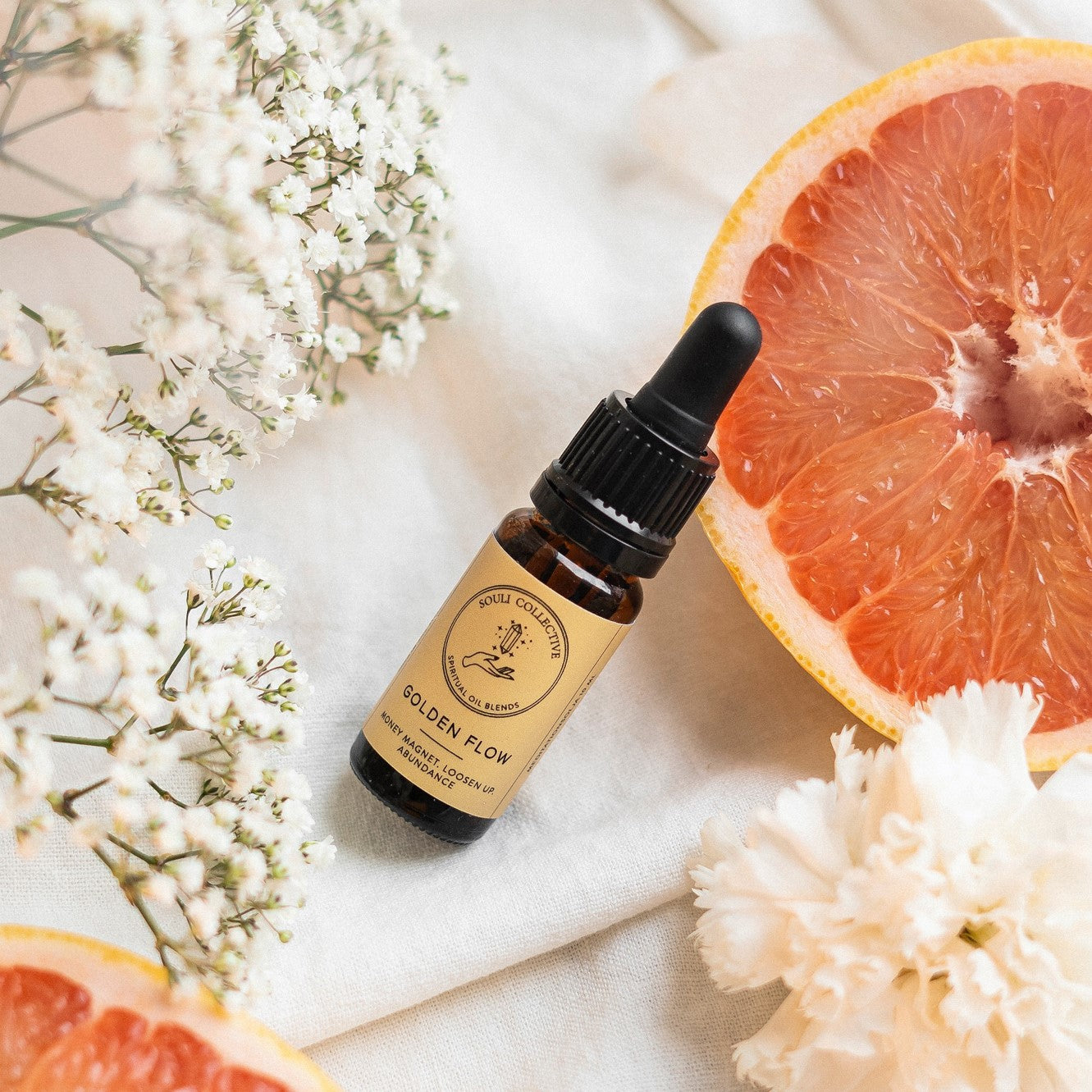 THE BLEND

It's your go-to Souli when you feel stressed, stuck in your career & finances, uninspired & unmotivated, in lack of creativity, negative emotions, overthinking, stuck in your mind or just life feeling too serious.

DIFFERENCE BETWEEN DROPPER & ROLLER

Rollin' it: Perfect to have on the go, in your jacket or bag, since there is no risk of leaking. So it's amazing for the bus ride, workplace, meetings and so on. It's simple and sweet to use.

Drip Drip: It gives a luxurious feeling when you add the drops by yourself. You can see, feel and smell it while you're applying the oil. Perfect to have next to your bed, meditation space, work desk and so on. It's charmy to use.

SHIPPING

Sweden: FREE shipping for order over 750:-, otherwise 49 SEK.

Rest of EU: 149 SEK.

We want to be kind to Mama Earth so we don't ship every day. You order will be sent to you within 72h.